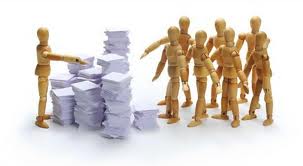 I have tried almost everything connected with invoicing and invoicing software. I downloaded free versions of the program in order to compare them and to choose the one that I would buy and use in future. I remember the time when I started using my first software for invoicing. It was quite hard for me to understand, how the program works and what should I click to get my invoice ready. I guess I looked very funny from the side. Every next program made me more experienced and one day I felt myself like a professional. Now when I look to my first invoicing software it seems the simplest program in the world. But five years ago I couldn't sort thing out.
When you became experienced user of something, you need more and more. The same is with me. I'm looking for software that will meet all my requirements. As I understood, I won't find it unless I create it by myself. The other option is to cooperate with some programmers of the software and to ask them for some more functionality. I'm thinking of it. But I don't have enough time to do it as always. There are things in business that you always postpone. I'm thinking of fixing one day of month to deal with things that are left aside. And the first thing I will deal with is invoicing software.
Talking about more functionality of electronic invoicing software there could be some more useful features. I would like to have feature that will show me all actions made with some customer. Also I would like to see action history of the invoice. Also my invoicing software can't split invoices with different statuses into different partitions. It is not essential requirement, but sometimes I want to see and work with just unpaid invoices. I understand that there is no ideal software, because all people are different and it's impossible to comply with all specific requirements what they have.
For people who are not captious or exacting the choice of invoicing software is wide. And everyone will probably choose the best software for themselves. If you need an advice, ask for it in comments and I will try to recommend you some software I have tried.
---
Andra inlägg